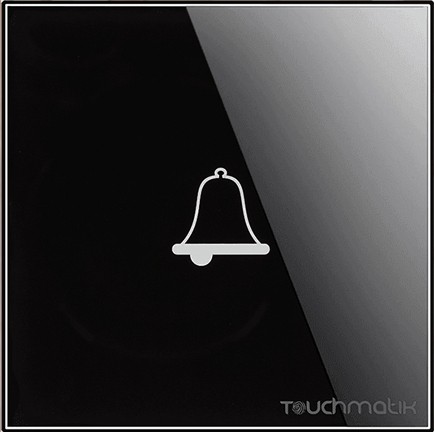 Doorbell
This Glass Doorbell is an absolute must-have for the modern homeowner. The cool, glass surface, the sleek designing, the sharp look, is enough to help you make a style statement. The best thing about it is the impression it makes on your guests as soon as they press the doorbell – a stylish, feather-touch welcome that accentuates your status.
Illuminated, iconic feature that is aesthetic and appealing
Designed for a selective option of 230VAC and 12V DC
Quartz
A single touch makes it all. Simply soft touch to light up your geysers, Air conditioner or your balcony light. Additionally featured with remote control and app control,life is easy with this smart switch. Small and smart in its looks with sleek identity, it attracts the eyes of everybody. Just fit it and let your guest envy your choice.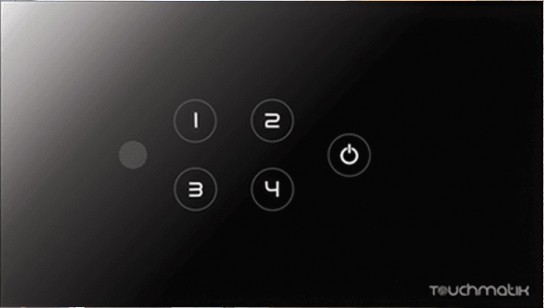 Emerald
With 4 Switch + Master
A must-have designer wall panel meant to complement the classy interiors of a modern day, stylish home. The smooth surface, the sleek design and the neat icons create a look that is sharp, helping homeowners to make a style statement. This elegant model speaks volumes about design technology and colossal efforts of the design team.
Suitable for homes, offices, malls, hospitals etc.
Promises no wear and tear.
Fit and forget solution for modern homes.
Shock proof.
Coral
With 6 KEYS + 1 MASTER
Imagine surfaces of switches and wall panels that look just like your smartphone. Feel the soft touch as you flick it on. See it add a touch of elegance to your interiors. Be elated with the impression it makes on your guests.
Innovative technology with smooth, single touch operation
Easy cleaning and maintenance resulting in no dust and bacteria.
Enhances classiness of your walls.
Shock proof.

Sapphire
With 4 Switch + 1 fan + Master
The Sapphire wall panel is a true gem when it comes to classy looks, soft touch features, dual colour iconic illumination and sleek design. Further, this wall panel comes with a fan switch and four 'up' and 'down' regulation controls, including a one-touch button for easy operation.
Spinel
With 8 KEYS + 1 MASTER
Apart from its sharp looks, the Spinel Glass is an elegantly designed wall panel with iconic illuminated display, and the ability to light up and control the maximum number of loads in a single room. Additionally, the Spinel wall panel is the perfect lighting solution for corridors, terraces etc., controlling the maximum number of lights from a single point.

Topaz
With 6 Switch + 1 Fan + Master
A pleasing to the eye profile with switches for control of the multiple lights and fan. A perfect combination to complement the modern lifestyle, Topaz is a must to be switchboard on the walls. A simple retrofit solution find its way to ease in installation and enables direct replacement to the mechanical switches.
Citrine
With 3 Switch + AC + 1 Fan +1 Dimmer + 1 Curtain + Master
A perfect blend of your switching requirements offered in a single switchboard.Citrine model has the switching combination for Lights,Fan,Curtain Control,Dimmer and the Air conditioner. Offering you the best of your desires and in great demand Citrine model satisfy you with a great feel of comfort and convenience.